What Is Bachelor of Arts (BA) ?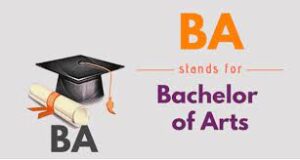 The full form of B. A is Bachelor of Arts. BA is one of the most demanding undergraduate programmes in Arts that can be completed in three years. BA can be pursued in various disciplines such as English, Hindi, History, Journalism, and Psychology. The course can be undertaken right after passing class 12th with 50 per cent marks in India. BA (Hons) or BA General course can be pursued in a full-time, part-time, correspondence, or distance education mode. It is mandatory to study five subjects along with a few elective subjects. The subjects will vary depending on the selected subject. The fees for BA courses range between INR 10,000 to INR 1 lakh.
Students can work as Executive Associates, HR Managers, Copywriters, Marketing Managers, Sales Directors, and several other similar profiles after graduation. After graduation, students can also consider joining Civil Services or going for higher education like a Master of Business Administration (MBA), Master ofArts (MA), or Law. The BA specialisation determines the average pay offered following a BA course. The average salary for BA courses can range from INR 3 lakh to 4 lakh.
Bachelor of Arts (BA) is a three-year programme that can be completed full-time, part-time, or through distance learning. Depending on the area of graduation, the BA course helps develop a variety of skills such as general research, deep analysis, and communication.
What Makes BA Popular?
A bachelor's degree in the arts offers more job options than a bachelor's degree in science or business.
A BA degree allows graduates to work in healthcare, administration, commerce, finance, marketing, or any other industry.
Several government jobs, such as the SSC, require candidates to have a bachelor's degree in the arts, earning a bachelor's degree in the arts is the ideal option for people who wish to work in the government sector.
BA degree holders have various job opportunities after completing this course and start earning salaray ranging INR 3 to 5 lakh.
The graduates can also go for higher studies like MA or Mass Communication.
Who Should Pursue BA?
A BA in Literature is a good option for students who want to learn about diverse cultures and backgrounds.
Those interested in human psychology and how to deal with emotional stress and accompanying health concerns can pursue a BA in psychology.
Bachelor of Arts students can also study geography through BA Geography or History through BA History if they wish to learn more about the earth and its history.
BA degree allows students to enter various professions and enhance their job prospects.