What Is Master of Science (MSc) ?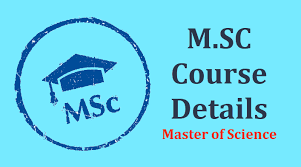 The MSc full form is Master of Science (MSc). The MSc course duration is two-year and is a postgraduate degree. The MSc degree is a postgraduate program that offers in-depth knowledge and specialization in a specific field of study.
In order to get admission to an MSc degree, candidates need to possess a Bachelor's degree in Science (BSc) from a recognised college/university with an aggregate of 50% – 60%. The average MSc course fee ranges between INR 6,000 and INR 1,10,000. The popular entrance exams conducted for MSc course are CPGET, IAR AIEEA, CUET PG, MCAER CET, AP PGCET, IIT JAM, URATPG, MAH CET, etc. The popular colleges that offer the Master of Science in India include Banaras Hindu University, Bharathiar University, Calcutta University, and Delhi University.
MSc degree is offered by universities and colleges in various specialised Science fields such as Physics, Biology, Chemistry, Mathematics, Botany, Biotechnology, Microbiology, Environmental Sciences, Food Sciences, Life Sciences, and so on.
Once graduated, candidates can opt for MSc job profiles such as Project Assistant, Lab Manager, Pharma Associate, Regulatory Affairs Specialist, etc. The average salary that an MSc course graduate earns ranges between INR 2 LPA and INR 9.3 LPA. If candidates are a graduate looking for MSc career options in the field of Science, given below is everything they need to know about the MSc course.
MSc Course: Highlights
MSc full form is Master of Science which is a postgraduate education that imparts theoretical and practical knowledge into the key capabilities of scientific subjects. The MSc course curriculum is structured to provide students with a comprehensive understanding of the subject matter.
Why Study MSc Course?
Candidates can choose from a wide variety of intriguing and sector-specific MSc courses, so consider which sectors you might be interested in working in and choose a degree accordingly.
Although an MSc course is difficult, demanding cognitively, and (sadly) expensive, it could be worthwhile in the long term.