What is M.Lib.I.Sc. (Master of Library and Information Science) ?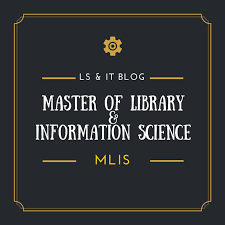 MLibISc (Master of Library & Information Science) is a postgraduate level professional degree course that covers advanced study of principles and practices of library and information science. The course is offered as a full-time as well as part-time (correspondence) programme at different universities and colleges across India.
What is Master of Library and Information Science?
Master of Library and Information Science includes the study of subjects like Planning and Management, Computer Basics and Applications, Library Management, Research Methodology, Statistical Techniques and alike.
The course duration is usually a year but you can complete this course within a maximum time span of 3 years.
Admission to MLibISc is provided on the basis of both merit as well as entrance exams. This means that while some universities provide direct admission to candidates on the basis of their marks in graduation, others offer admission on the basis of score obtained by candidates in the entrance exam.
Once candidates successfully complete MLibISc course, they can find job opportunities in the areas of archiving, cataloguing, indexing, information architecture, research, metadata architecture, etc. Interested candidates can also choose to pursue MPhil and PhD in library and information science to build a career in the field of research.
MLibISc Eligibility Criteria
Candidates should meet the below-mentioned parameters to fulfill eligibility criteria for MLibISc course:
Candidates should clear graduation in any stream from a recognised university
Candidates should clear graduation with minimum 50% – 60% marks
Candidates who have completed BLibSc or BLibISc are sometimes preferred for admission
Note: Eligibility criteria mentioned above might vary depending on the university in which a candidate is applying for admission.
MLibISc Career Scope
Candidates who successfully complete MLibISc course can find lucrative employment opportunities in public and private libraries, news agencies, foreign embassies, photo/ film libraries, information/ documentation centers, museums, galleries, etc. Some of the popular job profiles for MIbISc candidates include:
Deputy Librarian: A deputy librarian leads the secondary library team, which provides service detailed in library policy. The professional also works in coordination with teaching staff to ensure that the library service provides proper resources to support teaching and learning throughout the school.
Academic Librarian: An academic librarian acquires, organises, manages as well as distributes library resources to ensure that the provision of library meets the needs of all the users.
Electronic Resources Librarian: An electronic resources librarian is a professional who manages the life cycle of electronic resources such as e-books, databases, videos, etc. The professional is also responsible for managing serials, including ordering, maintaining and receiving serials in print and electronic formats.
Junior /Assistant Librarian: A library assistant helps librarians in different tasks needed to run a library smoothly. Some such tasks include acquiring, preparing, and organizing library materials.
Librarian: A librarian performs different tasks needed to run a library such as acquiring, selecting, cataloguing, circulating, and maintaining library materials. Apart from this, a librarian also furnishes reference, bibliographical, and readers' advisory services.
Teacher Librarian: A teacher librarian is the keeper as well as distributor of instructional media for a school. The professional helps assure equity of information by working in collaboration with teachers to help them and their students learn the skills required to identify and access appropriate resources.
Students can opt for higher studies for advanced knowledge of the course. They can also pursue their own business in books by establishing their own library
Candidates after successfully completing MLibISc can land up jobs in various departments including:
Deputy Librarian
Academic Librarian
Electronic Resources Librarian
Junior / Assistant Librarian
Librarian
Teacher Librarian
M.Lib.I.Sc. Salary
| Job Profiles | Salary (Annually) (Approx) |
| --- | --- |
| Deputy Librarian | INR 8.2 LPA |
| Academic Librarian | INR 3.8 LPA |
| Electronic Resources Librarian | INR 12 LPA |
| Junior / Assistant Librarian | INR 3 LPA |
| Librarian | INR 4 LPA |
| Teacher Librarian | INR 5.4 LPA |