What is Mcom (Master of Commerce) ?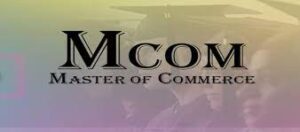 The full form of MCom is Master of Commerce. MCom is best suited for applicants, who desire to pursue a career in Banking, Accounting, Financial and Investment sectors. Students should have knowledge of economics, and business in order to pursue this two-year programme. The candidates who have finished their undergraduate studies in commerce (BCom, BCom Honours) with a minimum grade point average of 50% are eligible to pursue the MCom programme.
Admission to MCom courses in top universities is done through an entrance exam. Many universities also offer merit-based admission to the course. M.Com in India can be pursued as a full-time, part-time, distance, or correspondence and online course. There are about 3500 private, government and public-private MCom colleges in India that provide the course. M.Com subjects are designed to provide all necessary information to the students relating to the accounting and commerce stream. UGC-NET/JRF and Doctor of Philosophy (Ph.D.) are among the popular options for MCom degree holders.
Students who want to become teachers or lecturers often choose the MCom degree. After finishing the MCom course, students must enrol in PhD courses to qualify. MCom courses are also available to students via distant learning. Candidates can apply for MCom Distance Admission if they are unable to attend regular classes in person at the institute. Such individuals may apply for admission to the MCom course via distant learning.
In MCom, students will learn about accounting concepts, money and banking systems, economic theory, business knowledge, micro and macroeconomics, management, and other topics. This course is designed for students who desire to pursue advanced studies or conduct research in statistics and related fields.
All About MCom Course
MCom or Masters of Commerce is a two-year post-graduate level course ideal for candidates who wish to make a career in banking financial services and insurance (BFSI) as well as accounting and commerce sectors. The two-year course delves deeper into the functioning of the economy, capital, revenue, trade, taxes, etc. MCom is a very versatile course that enables students to choose their careers in various fields.
Since MCom is a specialised area in itself, only those candidates who have pursued BCom or BCom (H), can pursue the course. MCom is also a good option for CA/CS candidates. The course fee of MCom ranges between INR 5,000 to INR 1.5 lakh. The Return on Investment for the MCom course is good and the course can prove to be a good choice for students.
Why Do MCom Courses?
MCom courses are in high demand among students because of the financial benefits it brings with them. BCom graduates can opt for MCom to fast-track their careers. Here are a few reasons why should one pursue an MCom course:
Career Growth: A stepping stone in the careers of students, especially those who are inclined toward the teaching profession. For students who wish to pursue a career in the commerce Banking Financial Services and Insurance (BFSI) sectors, MCom can be a very good option. Students, who wish to pursue a career as Financial Manager or Auditor, can also go for MCom.
Professional Courses: Many MCom candidates opt for professional courses such as CA, CS, or CFA. These courses are comparatively tougher to clear, hence, with MCom students always have the option of opting for higher studies or jobs even if they do not do well in the professional courses.
Develop Skills: Develop leadership, managerial, entrepreneurial, and people skills.
Who Can Pursue MCom?
MCom is a field related to business and accounting. Applicants, who desire to work in the field of commerce, banking and financial sectors should enrol in the MCom programme.
The MCom programmes are recommended for candidates who desire to pursue various leadership positions in various industries. Generally, students become Auditors, Business Managers, Brokers and Lecturers, after completing the course.
Students can even go for further studies after this. Students who wish to become CA or CS can also join this course as it will enhance their skills and knowledge.
MCom Course Specialisations
MCom covers a wide area for study and research and has many specialisations to offer besides MCom (General) and MCom (Honours). The desirous students can have a look at the specialisations offered according to their area of interest. The expansion of businesses has highlighted the need for graduates in taxation, accounting, finance, and marketing sectors